Field Station is temporarily closed due to severe damage to the access road by a rainstorm.
What is Field Station?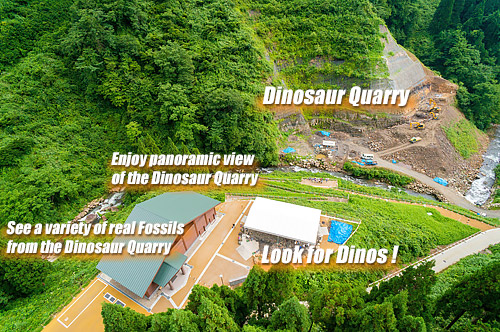 Field Station is at the largest Dinosaur Discovery Site (Dinosaur Quarry) in Japan located near the FPDM.
Many dinosaur fossils have been discovered in Dinosaur Quarry, including five new species of dinosaurs.
Field Station is composed of three areas where visitors can learn about excavation of dinosaur fossils through hands-on experience.
Come and join our organized two-hour tour for a fascinating experience outdoors.
An approximately 30-minute bus ride takes you to the Dinosaur Quarry from the museum.
Join the tour!
About the tour
Three attractions are included in our tour.
Tour is held April 21, 2022 to November 06, 2022.(except the closing day of Dinosaur Museum)
1.Enjoy a panoramic view of the Dinosaur Quarry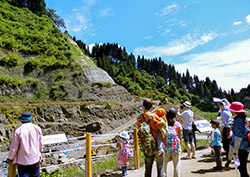 Visit a special place where Japanese dinosaurs have been found.
2.See a variety of real fossils from the Dinosaur Quarry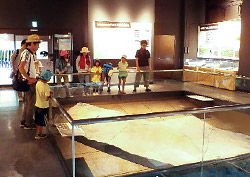 Learn how to recognize the fossils in the rocks, such as dinosaurs, crocodiles, turtles, fishes, clams and snails, plants, etc.
3.Look for dinos !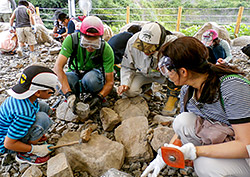 Find the fossils of the dinosaur age by yourself.
Staffs of the museum help you to find the "treasure."
Admission Fees
Adults
High school and
college students
Primary / Secondary
school students
Senior and Child
Individuals
1,220 yen
1,020 yen
610 yen
free
Groups
1,020 yen
810 yen
510 yen
free
Senior refers to those who over 70.
Child refers to those who under 6.
Group discount is available for groups of more than 10.
Group-rate discount will be applied only when all group members visit the Field Station in the same tour.
We do not accept credit cards. Cash only.
Admission fees for the museum is not included.
Notice
Gloves are required to participate the fieldwork.
You may purchase them at the Booking Office or from the navigators.
We recommend "cotton work gloves."
The Field Station is located in the mountain.
Please bring the clothes and shoes adequate to the field work and something to drink with you.
In case of emergency such as extreme weather, we may cancel a whole tour or the fieldwork.
We basically do not supply operation in English.
Reservation
Make reservation on the Internet.(The link is below)
We start to accept reservations in March normally.
Please make a reservation no later than two days before the preferred date.
Please check the timetable of the preferred date before making a reservation.
Timetable
| | Weekdays | Busy period | Peak period |
| --- | --- | --- | --- |
| 9:00-11:00 | - | - | 〇 |
| 10:00-12:00 | - | 〇 | 〇 |
| 11:00-13:00 | 〇 | 〇 | 〇 |
| 13:00-15:00 | 〇 | 〇 | 〇 |
| 14:00-16:00 | - | 〇 | 〇 |
| 15:00-17:00 | - | - | 〇 |
Peak period refers to April 29 - May 8 / July 16 - 18 / July 21 - August 31 / September 17 - 19 / September 23 - 25 / October 8 - 10.
Busy period refers to Saturday, Sunday and Japanese national holidays except peak period.
60-minute fossil excavation course is not available in 2022.
On the day of visit
Please come to the Field Station Booking Office 30 minutes before the scheduled departure time.
Please pay the fees and obtain the tickets for the tour.