Field Station
The largest Dinosaur Discovery Site (Dinosaur Quarry) in Japan is located near the FPDM. Many dinosaur fossils have been discovered here, including five new species of dinosaurs. Furthermore, we can find a lot of fossils such as plants, mollusc shells and dinosaur footprints.
It is composed of three areas and visitors can learn about excavation of dinosaur fossils through hands-on experience.
Come and join our organized two-hour bus tour for a fascinating experience outdoors. An approximately 20-minute bus ride takes you to the Dinosaur Quarry from the museum. It must be fun to chat with the navigator who guides you during the tour.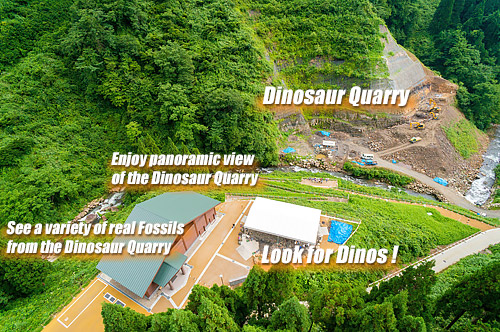 About tour
Three attractions are included in our tour. It is held almost every day (except for the closed days of the museum) from spring to autumn.
1.Enjoy a panoramic view of the Dinosaur Quarry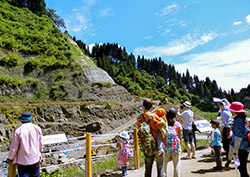 Visit a special place of Japanese dinosaurs, including Fukuiraptor, Fukuivenator, Fukuititan, Fukuisaurus and Koshisaurus.

2.See a variety of real fossils from the Dinosaur Quarry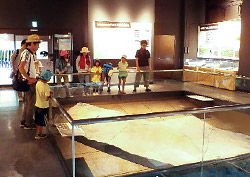 Learn how to recognize the fossils in the rocks, such as dinosaurs, crocodiles, turtles, fishes, clams and snails, plants, etc.

3.Look for dinos !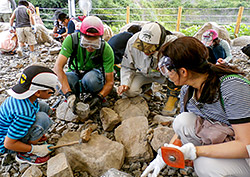 Find the fossils of the dinosaur age by yourself.
Staffs of the museum help you to find the "treasure."